Mugambi Jouet teaches at Stanford Law School and is the author of  Exceptional America: What Divides Americans From the World and From Each Other (University of California Press), a book exploring the intriguing roots of America's intense polarization and Donald Trump's election. He was interviewed on C-SPAN's Book TV, NPR/WNYC's Brian Lehrer Show, NPR/KQED's Forum, and other radio programs about his book's release, as well as quoted in Newsweek. He recently started tweeting.
Comparing the reactions to 9/11 in America with the Parisian terrorist attacks on Charlie Hebdo and French Jews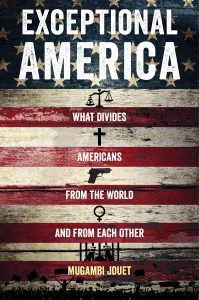 NEWS
Mugambi Jouet's book tour includes the 92nd Street Y in Manhattan, Commonwealth Club in San Francisco, Cambridge Forum at Harvard Square,  Politics & Prose in Washington, D.C., and the L.A. Times book festival.
The London School of Economics' Review of Books featured an article on his book Exceptional America.
His latest op-ed articles have appeared in Slate, Mother Jones, The New Republic, San Francisco Chronicle, Huffington Post, The Hill,  Libération, Le Nouvel Observateur, and Le Monde.
His academic articles are now on SSRN, including his study of human rights in America and article on war crimes in the Vanderbilt Journal of Transnational Law.