Mugambi Jouet recently joined McGill University, after teaching at Stanford. He is the author of Exceptional America: What Divides Americans From the World and From Each Other (University of California Press), a book exploring the intriguing roots of America's intense polarization over fundamental issues, from mass incarceration to wealth inequality, race, religion, and Donald Trump's election. He was interviewed on C-SPAN's Book TV, NPR/WNYC's Brian Lehrer Show, NPR/KQED's Forum, and other radio programs about his book's release, as well as quoted in Newsweek.
Comparing the reactions to 9/11 in America with the Parisian terrorist attacks on Charlie Hebdo and French Jews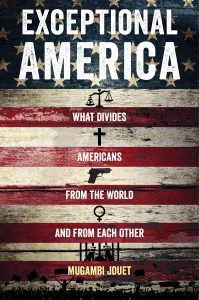 "A fresh contribution to the literature on US exceptionalism exploring the divisions within US society over a range of key issues, including welfare, economic inequality, the justice system and foreign policy. Drawing on key facts and figures, Jouet presents an engaging analysis of the fundamental contradictions shaping the USA today. . . . Jouet's book covers a wide range of subjects, including legal studies, political sociology/science, criminology, comparative studies, history and economics. This book will spark a renewed discussion about what makes America exceptional."
London School of Economics Review of Books
"[An] engaging and learned book . . . Seeking to understand rather than condemn, Jouet offers a rich and revealing portrait of the America that produced President Donald J. Trump."
Jacob S. Hacker, Yale University
"This insightful and powerful book, coming from a remarkable comparative perspective, shows well how American attitudes toward criminal justice, health care, economics, race, religion, gender, human rights, and other key issues are more interrelated than we realize."
Bernard Harcourt, Columbia Law School
"Jouet brilliantly dissects the historical, political, and ideological reasons why Americans are so polarized from other nations and from each other."
Dorothy Roberts, University of Pennsylvania
"This thought-provoking work explores a political shift that has transformed the concept of American exceptionalism into one of American superiority."
Susan Jacoby, bestselling author of The Age of American Unreason
NEWS
Mugambi Jouet presented the annual lecture at the University of Pennsylvania's 2018 Levin Family Dean's Forum.
His book tour included the 92nd Street Y in Manhattan, Commonwealth Club in San Francisco, Cambridge Forum at Harvard Square,  Politics & Prose in Washington, D.C., and the L.A. Times book festival.
His next academic article on the peculiar historical evolution of mass incarceration will appear in the Journal of Criminal Law and Criminology.
His latest op-ed articles have appeared in Slate, Mother Jones, The New Republic, San Francisco Chronicle, Huffington Post, The Hill,  Libération, Le Nouvel Observateur, and Le Monde.